Cherry blossom season is a magical time to experience the joy of being in Japan and to celebrate the start of spring under blooming cherry blossom trees!
Our Kyushu team organized a Hanami or cherry blossom viewing event on the 30th of March in Maizuru Park, Fukuoka. We had the luck of enjoying full blooming Sakura trees on a very sunny day. The event started at 10:30 am, but we had scholars joining us up to 2:00 pm. Together we had a nice lunch consisting of snacks and drinks sponsored by both MSA and scholars participating in the event.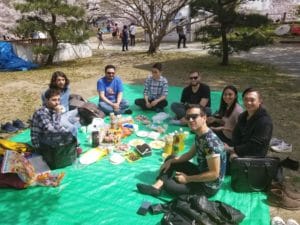 The MVP of the event was Maximiano Cassal from Brazil, who baked and brought a delicious chocolate cake for us to eat. After some hours chatting and getting to know each other while sitting under cherry blossom trees, the scholars and their friends attending the event walked around Maizuru park and checked the ruins of Fukuoka Castle.
At around 5 pm we decided to call it a day with the promise of meeting again during the spring intake welcome event.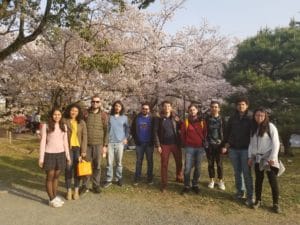 We hope that everyone had a great time and we can't wait to to see you at our next event!