On Sunday, the 8th of April our MSA Kansai Team met with 28 MEXT scholars to celebrate the start of the spring semester and to pre-welcome the newly arrived scholars in Kansai.    
The afternoon gathering started at 1 pm near Kamogawa, the river which is an integral part of the student life in Kyoto. We all sat along the river and had a quick introduction session while enjoying some hot and cold drinks. People even joined us from far off- places like Kobe and Nagoya.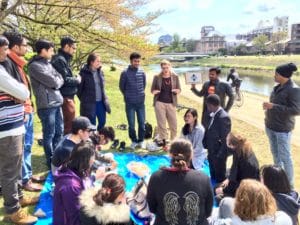 It was a relatively cool spring day. So, after around 30 minutes we started walking towards Falafel Garden, the designated lunch place near Demachiyanagi Station. Other scholars were waiting for us there. While enjoying our light lunch together, we got a chance to better understand the expectations and necessities of the newly arrived scholars and set foundations for new networking opportunities. The event ended at 5 pm with a promise to meet again at the official end-of-April MSA welcome parties in different parts of Kansai.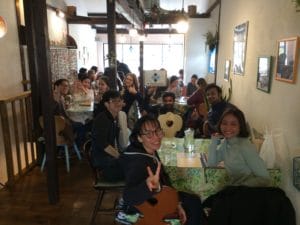 It was a beautiful time we had! We look forward to see you all again!