With over 6,000 factories located in Higashi Osaka, this city contributes to highly competitive edge of Japan's manufacturing. On the 3rd of February, we had the honor and privilege of attending a tour of 6 different factories. Everyone we met were all highly skilled specialists in their various fields.
Our first stop was a Kyokushin Gas Equipment Plant, Ltd. They make made to order specialty takoyaki pans, ikayaki, taiyaki, castella pans to the many different restaurants and food stands. They taught us about the different use of materials such as copper (it can last for decades!), tephlon, aluminum, etc. They let us participate in some of their welding and even let us hammer in our initials on a personal copper name plate!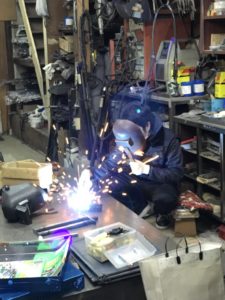 Next, we visited the Matsuyoshi-Doll Co where 15 specialists build 4,000 hand-made Japanese dolls a year. They manufacture dolls such as the Hina doll used in the girls' festival to modern dolls. Everything from the hands, face, body, and clothing are produced by a different specialist. They let us observe their work space and even let us participate in a workshop to make our own magnets using the kimono fabric they use for their dolls. They taught us about the many seasonal festivals that exist in Japan.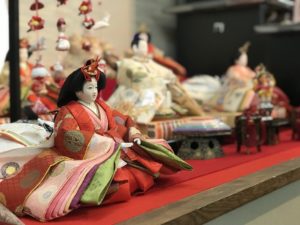 Third, we visited a wire factory (Nihon Kasen Co, Ltd.) that manufactures the wire used in different productions such as construction, electric facilities, etc. They supply wire from Hokkaido all the way to Okinawa. In addition, they also manufacture original craft color wire and hold a 95% share of Japanese hobby wire craft market with their brand: Jiyu-Jizai. They not only supply the industrial market but also the artisan markets and let us make our own pen holder with their craft wire. We were getting overwhelmed with all of their kind presents.
Fourth, we saw the epitome of what a clean, organized, and efficient workplace can look like and be. Fuji Sesakusho Co., Ltd. manufactures thousands of different kinds of nuts and bolts. The are promoters of the 5S system: sort, straighten, shine, standardize, and sustain. With the support of the Japanese government, they support the preservation of highly skilled workers and in turn this company continues to produce high precision and high quality products.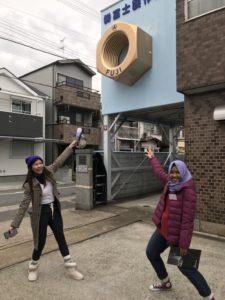 Fifth, Sunrise Iron Co. Ltd. went all out in their hospitality as they showed us their highly respected and rare flash-butt welding- they produce the rod that controls the handle steering of almost all cars in Japan (Toyota, Nissan, Mitsubishi, etc.).  They let all of us all weld together our own stainless steel pen stand and even sent us home with delicious udon we ate on the bus. You could tell that everyone here were highly skilled and passionate about their work.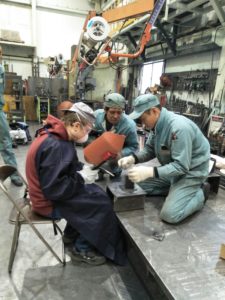 Finally, we visited Nakatsuji Kanagata Kougyou Co. Ltd., which is a design company that produces different specialized components for cars and consumer electronics using molds that they create. This company is currently producing the panel parts that will go into the new train line they are building in Kyushu next year. They also are tapping into the artisan market and developing one of a kind coasters to appeal to more household consumers. We got to make our own tin badges to take home.
While there were many spots on this tour, our group was very excited and inspired by the pride we felt from the many Higashi Osaka craftspeople we visited and I know many of us had newfound appreciation for many products we buy in Japan because we saw firsthand the labor and hard work that goes into the things we use everyday. It's nice to know that not everything should be outsourced and produced by robots. Hopefully these companies will continue to succeed as they were so open to having more tourists come to look into their craftsmanship.
Thank you to the organizers of the tour, our translator, and the many hands that went into making the tour a success!
By Chika Kondo. Photo credit: Fatemi Nawrose