Happy Birthday to MSA!
MEXT Scholars' Association turned 1 on the 17th of June and what better way to celebrate than with a big cake surrounded by old and new friends! MSA organized a birthday event at the Omotesando Oval Building in Shibuya filled with both opportunities for experience exchange and for networking with fellow scholars as well as alumni.
At this event, the participants had the honor to listen to how the following three alumni speakers succeeded and how they give back to the Japanese society:
1. Ashraf Omer from Sudan, a Deputy Manager at Sumitomo Chemical.
2. Benson Liu, an Australian Transfer Pricing Associate at Grant Thornton.
3. Arianne Dumayas, an Assistant Professor at Chuo University from the Philippines.
The guest speakers started off with sharing the experiences they made studying and working in Japan. Since one of the themes is "to give back to the Japanese society", the guest speakers were asked for their opinions and experiences regarding this matter. They seemed to be doing their best to "give back", be it giving back to students through their job in terms of education or giving back to those in need, of which there are plenty in Japan, even though it is such a highly developed country. The session then proceeded to a panel discussion, which is part of the MSA's "From Scholars to Scholars" series, which features alumni with professional experiences. The floor was open to the audience to ask each of the speakers personal questions regarding their experiences in each of the fields that they are involved in.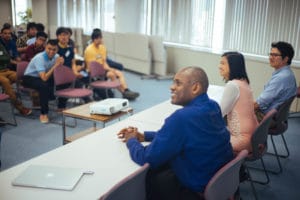 The discussion was followed by an annual report from MSA's side, where the achievements throughout this first year were presented, followed by the introduction of plans for the future and then a warm greeting from Izumi-san, a MEXT representative. A networking session over finger food, drinks, snacks and delicious birthday cake concluded MSA's birthday party. MSA's Birthday Bash was attended by nearly 50 alumni and current undergraduate as well as graduate students, with academic fields of expertise ranging from linguistics to mathematics and international relations.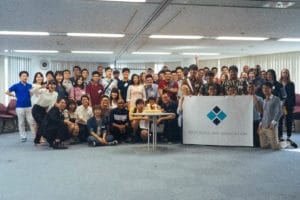 We would like to extend our heartfelt thanks especially to ZESDA for opening this space for us to hold this unique event to celebrate our birthday and strengthen our community of MEXT scholars together. Last but not least, a big thank you to our guest speakers and every single MEXT scholar or alumni, who joined us for our birthday party and made this event special! We look forward to seeing you at our next event!
Photography provided by Jorel Chan