On Sunday, 16th July, 2017 the Kansai division of MSA organized an evening walk to the Gion-festival in Kyoto. Despite the bad-weather with occasional heavy downpour, 33 people joined the event. It is important to note that this was one of the first MSA events in Kansai and so, the support shown by the fellow MEXT scholars was a great source of motivation for the organizers. People came not only from all parts of Kansai (Kyoto, Osaka and Kobe) but also, there were 2 participants from Okayama and Kagoshima.
The evening started with a visit to the Yasaka Shrine, which is the shrine for the Gion-festival. As it was the day of Yoi-Yama, the day before the procession of floats, there were many special events in and around Yasaka Shrine. One of those was the performance of Iwami-Kagura, an ancient Japanese dance form usually performed in shrines to please the deities. Iwami-Kagura is from the Western part of Shimane-Prefecture and depicts a fight-scene of Susanoo, the Kami of Storm with an eight-headed serpentine monster. The participants tried to blend-in with the crowd despite the hot-weather and became a part of the festive-mood.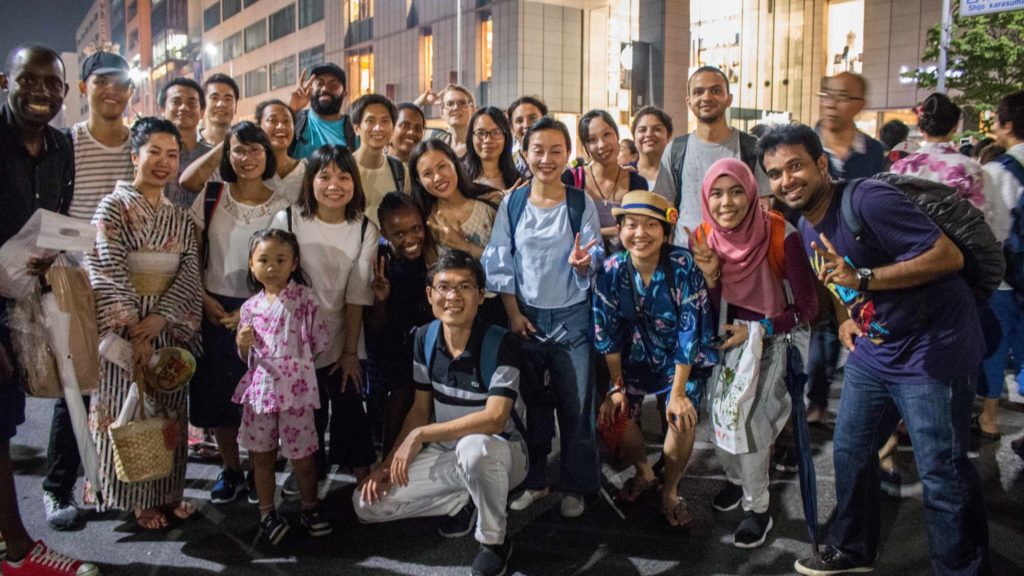 After the performance, the group walked towards the Shijo-Karasuma area. The next stop was the floats (or the Yama-bokos) which are the prime symbols of Gion-Matsuri. The crowded street was filled with people in yukatas and it was a beautiful sight. The Yama-bokos were all beautifully decorated and stationed elegantly as if all of them were looking forward to the procession on the next day. The evening ended with the enjoyment of the local street-foods which were in plenty and also another attraction of the festival.
In a short span of a few hours, many of the participants became friends with each-other. Most of the participants were happy as this was their first official outing with other MEXT scholars. The breaking of ice was the primary objective of organizing this event. The plan is to work towards building a very strong family of MEXT scholars in Kansai area and beyond. The wheel has been set into motion and the Kansai team is now already discussing about their next event.