On Sunday, 12th of November, the MSA Kansai team organised an outing to enjoy the autumn colours of Kyoto. The chosen location was Mt. Hiei, a popular destination to enjoy the changing colours.

In the afternoon, 20 scholars assembled at Demachiyanagi station in Kyoto. It was a good mix of scholars from Osaka and Kyoto. The journey started with a train ride to Yase-Hiezanguchi station. Right outside the station, the welcome colours of red and yellow could already be seen.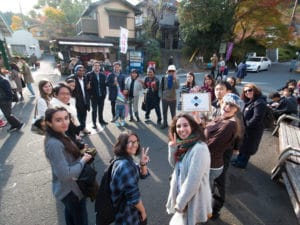 The next step of the journey involved using the Eizan Cable Car and ropeway all the way to the top of Mt. Hiei. The view on the way was simply mesmerising.

Once the top of the mountain was reached, it was time for a small hike to the temple complex. The main attraction in Mt. Hiei is Enryaku-ji, one of the most important monasteries in Japanese history and headquarters of the Tendai sect of Japanese Buddhism. On the way, there were many viewing spots. It was a beautiful day with clear view of the valley.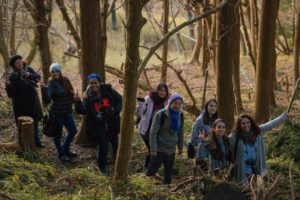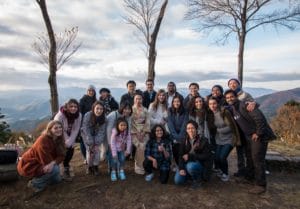 When the group reached the entrance of the Enryaku-ji temple, it was already close to closing time and so they were actually allowed to go in without paying any entry fees. The short time was utilized by trying to bask in the serene atmosphere. Many photos of the beautiful temple complexes were. However, the main temple was actually inaccessible due to repair works.
On the way back, it was quite chilly and started to get dark. However, some illuminations could be seen on the way back, that somehow compensated the struggle against the cold weather. The outing ended with a lovely middle-eastern dinner and smiles on peoples' faces.
Photographs by Fabian Hia and Anirban Chakraborty