As 2020 comes to end and the world is still in a pandemic, going back to your country may become needed at some point in time. Japan's government has issued new procedures to allow foreign nationals who possess the status of residence to re-enter Japan from September 1st, 2020. The procedures have been updated since November 1st, 2020. So we will explain the steps according to the new update.
This concise article may help you as a student to get a better understanding of these new procedures and what to expect when returning to Japan.
These procedures are COVID-19 specific measures that are on top of the normal re-entry procedures. For more details please refer to the website of the Ministry of Foreign Affairs of Japan.
If you are planning to temporary leave Japan in the near future
When you plan to go to a country/region that is subject to denial of landing by Japan, Make sure to read this article as well as follow the source links for each matter. If you are a student, your university may have other requests or documentation to complete on top of the following so please talk to your supervisor before leaving.
Before leaving Japan:
From September 1st, 2020 You were required to contact the Immigration Services Agency of Japan by email to submit a request of re-entry within one month of your intended leave. But as of November 1st, 2020 this procedure is no longer needed.
Before flying out from Japan:
Before you leave Japan, make sure what measures are followed by the airline company and your destined country. You may be requested to have a "certificate of negative test result" (PCR test) here in Japan for yourself and your family members in order for the airline to allow you to fly and the destined country to allow you to enter the country. These voluntary PCR tests are conducted by many private medical facilities and can cost about 28,000¥ (based on reports that we received) which the national health insurance does not cover.
To learn about clinics that provide PCR test for travelers refer to the following document by the Ministry of Economy, Trade and Industry: https://www.meti.go.jp/press/2020/07/20200703002/20200703002-1.pdf
Before Re-Entering Japan:
Before taking your flight back to Japan, in order to prove that you are not infected, you need to take the COVID-19 test which is referred to as "Certificate of Negative Test Result" within 72 hours before departing from the country that you stayed in. The template is provided by the Ministry of Foreign Affairs, can be downloaded from the following link: https://www.mofa.go.jp/ca/fna/page25e_000334.html.
In case you use a different format, the required information on the certificate must be the same as the one in the prescribed format. The certificate should be filled out at the medical facility in English. In case the information cannot be filled out in English, we suggest that you consult with the MOJ. The contact number can be found at the end of this article.
The required information on the certificate:
personal information of the applicant

name
passport number
nationality
date of birth
sex

proof of authenticity of the COVID-19 test result

test method (only limited to the test method mentioned in the format)
test result
date (and time) of sampling
date of the test result
date of issuance of the certificate

information about the medical institution

the name and address of the medical institution
the name of the doctor
stamp seal (or signature of the doctor)
Remember, only samples and testing methods listed in the prescribed format for the certificate of testing can be accepted (currently: "nasopharyngeal swab" or "saliva"). Other kinds of testing methods are not accepted. That means you may get denied if you took a PCR test using a different sampling method.
Arriving in Japan
Upon arrival in Japan, you will be tested for COVID-19 at the quarantine station inspection at the airport and will be asked for the COVID-19 test certificate that you got in the country that you stayed in.
A saliva test will be conducted at the airport and we have multiple reports that this specific test is free of charge. You will also get your results within a few hours.
After confirming the documents and getting the saliva test results at the airport you have to
Get to your designated quarantine place and stay there for 14 days. (The quarantine place can be a hotel close to the airport or your home, apartment, etc.)
You can use special taxis to get to your designated place, rent a car or ask a friend to pick you up. Do not public transportation (including airplanes and shinkansen).
You are not allowed to use any public transportation within these 14 days.
The above are general rules by the Japanese government. But, again, if you are a student, your university may have additional measures. For example, we have a report that one university asked a student to stay at a hotel close to the airport. They even contacted the embassy of the student and requested them to tell the student to do so. They also asked for the name and address of the hotel. So please check by yourself about any other regulations that your university may have.
As of the 1st of November, the Japanese government has also announced a waiving of the 14-day quarantine for business person returnees (including resident foreigners) under certain conditions.
However, these conditions are strict and above all require that your stay abroad be limited to at most 7 days. Even after returning, you are required to submit an activity plan within Japan for the first 14 days and not use public transportation. Full details of this exemption are available here (in Japanese) with a summary in English released by the Ministry of Foreign Affairs here.
During the quarantine period
During your quarantine period, you may be contacted and requested to monitor your health condition. The contact may be in the form of a survey about your health status that you need to submit, or just an email asking you to measure your fever daily. You may also get phone calls from health officials during the quarantine period.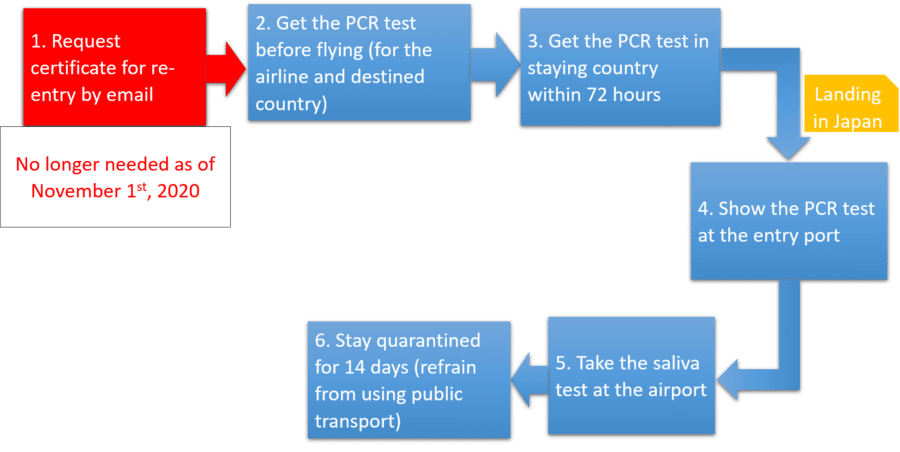 Contact the MOJ for more information
The following phone number is provided by the MOJ in case you need to ask for more information.
Tel: 098-987-1154 (9:30 to 18:15 except for Saturdays, Sundays, and national holidays)
MSA Support
As MSA, we try to support returning MEXT scholars financially for a maximum of 10,000¥ per person to offset COVID-related extraordinary travel-related costs.
Please see the details and apply here.