Japan is starting to welcome many students this year. Many might want to try the local Japanese delicacies, such as Meiji chocolate. Although Japanese farmers do not plant cacao, Japan makes good chocolate at a reasonable price. On the other hand, many students need to have access to halal and Muslim-friendly products to live in Japan.
This article will discuss where and how to buy Halal foods in Japan. It might also be an interesting read for you, if you want to give to or share Japanese food with Muslim friends.
Gyomu Super
Your food stock, that you brought all the way from your home country might run out quickly, so the very first thing you want to do is to find a store that sells halal food in your area.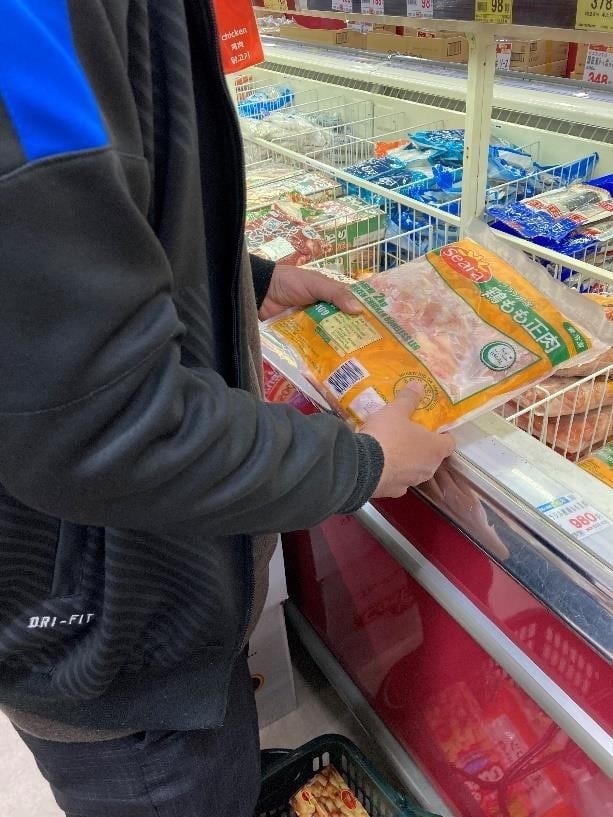 There are about 961 Gyomu Super stores (as of February 2022) in Japan, even in prefectures far away from big cities like Tokyo and Osaka. There are many Muslim-friendly restaurant in big cities or tourist spots, however, even you live in inaka, a.k.a in the Japanese countryside, it is not that challenging to find restaurants where you can eat halal food. For example, there are 18 stores on Shikoku Island, including four stores in Matsuyama city, where I currently stay.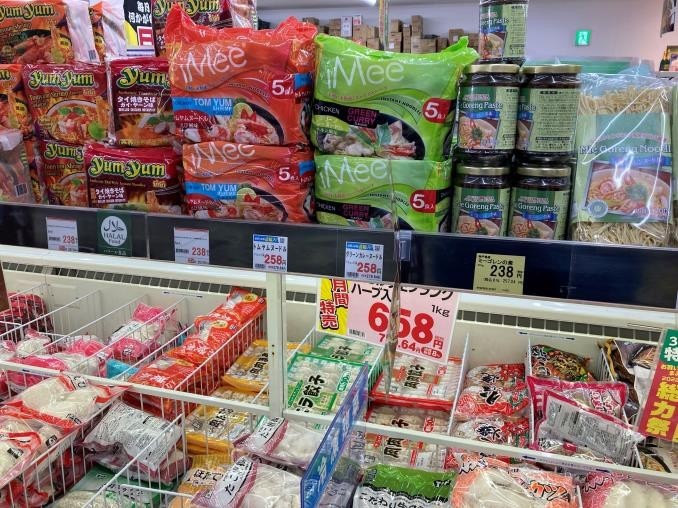 Gyomu means wholesale, thus, you will also find huge packs of your soon-to-be favorite Pocky or 2 kg of halal boneless chicken. They also sell a vast variety of imported products and also local halal-certified products. It is easy to spot apple pie from the Netherlands to vermicelli from Indonesian checking the halal certification on the packaging. You can buy more than 100 halal products here. Many Japanese people also frequent this store because of its low prices.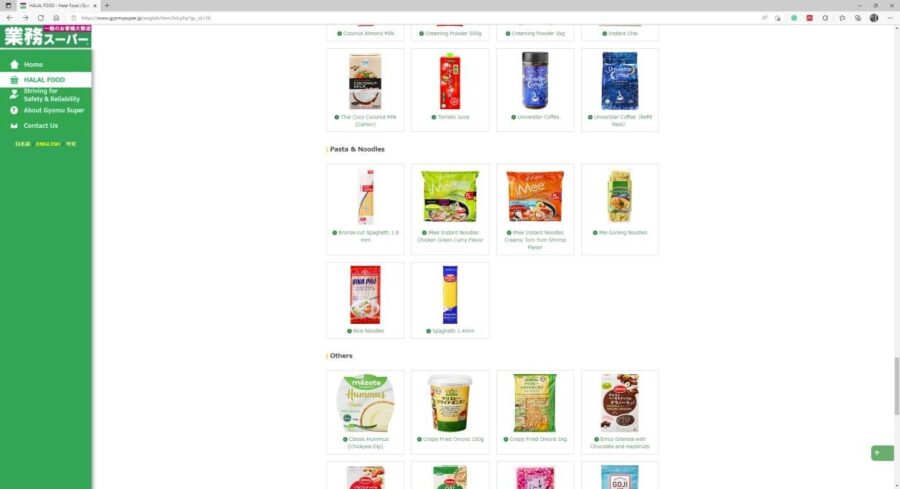 You can check their website too: www.gyomusuper.jp/english/item/list.php?gc_id=56
Other options include Kaldi Coffee Farm and Don Quijote. Bongo Bazar in Saitama prefecture is the first large-scale halal supermarket in Japan. Muslim immigrants also open local halal shops in some prefectures such as Tohoku and Aichi (Sariraya). Local Masjid and Muslim communities all throughout Japan also have a small shop for getting their halal food supply. Some online stores also sell halal food, even ready-to-eat meals. However, you might have to be patient before your order arrives in front of your door. Some recommended online shops:
baticrom.com
salam117.com
toko-indonesia.org
sariraya.com
ajinatori
hanamazapan
Tokyo Camii Halal Market
Halal Japan App
If you still can not find a Gyomu Super near you, the Halal Japan application will help you find halal food at your closest convenience store, drugstore, and supermarket. More than 16,000 products (and more to come) are listed in this application. No products are constantly added because there are many new products, seasonal products, and also new formulas released every month. Be careful and constantly check for updates, because sometimes new formulas might end up making a certain product not be halal-friendly anymore.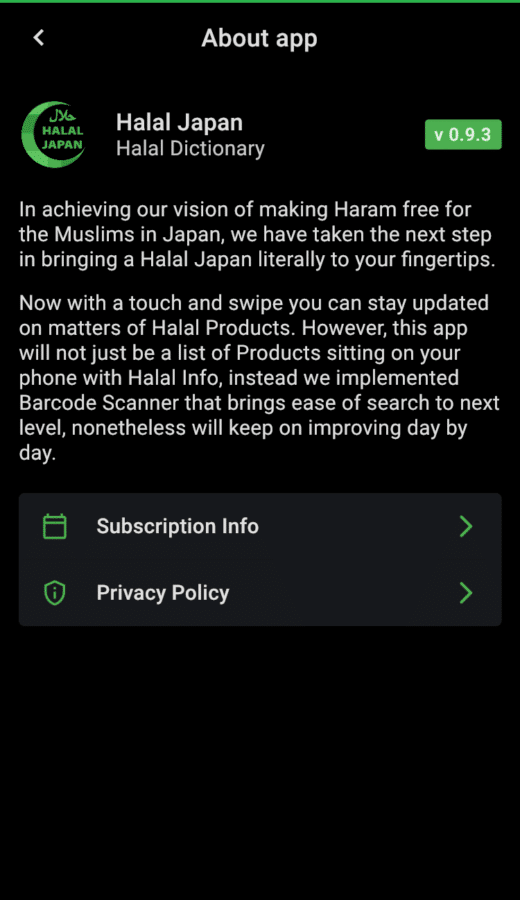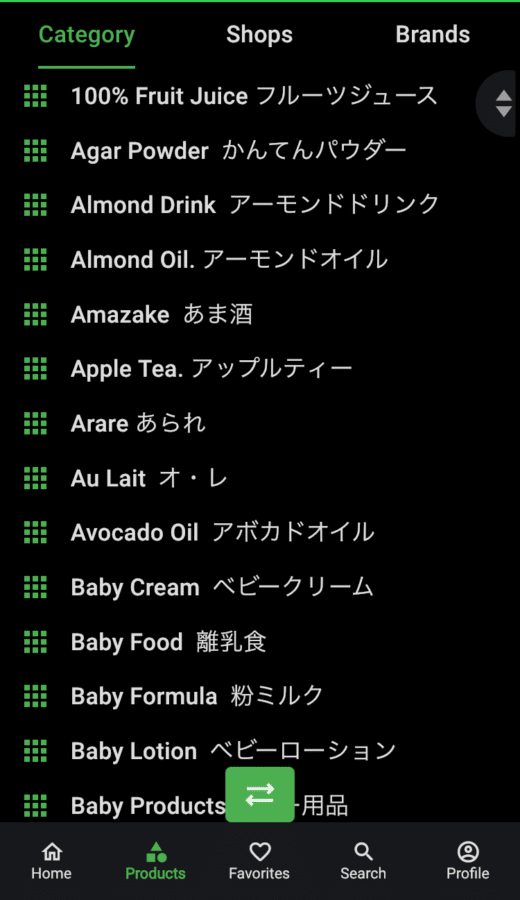 This application is free. To use it, you just need to scan the barcode of a product to check the information on the app. The developer of this app used to share information about halal and Muslim-friendly Japanese products on Facebook since 2013 before he developed the app. He and his team collected the information on this app by emailing companies to ask about the ingredients or possible contamination of each product. You can even look up toothpaste and liquid soap on the app.
Don't worry about finding halal food in Japan, more and more halal products will be added in the future and there will be more and more options for finding halal food and Muslim-friendly restaurants!
Disclaimer: I did not receive anything from the store or the app for mentioning them in the article.
Vioni Derosya, PhD Student Ehime University