On February 2nd (Saturday), the MSA Kansai team organized the winter event "Illuminations at Kibune Shrine". People from different countries like USA, Germany, Lithuania, Mali, and Myanmar, participated in the event. The original plan was to enjoy the snowfall but the weather was unpredictably warm and sunny. The next part of the event was a hike through the wonderful winter landscape. Despite the beauty, the aftermath and the damages caused due to the typhoon 21 could still be clearly seen. It was shocking to see such tall pine trees bent over and many trees cut and falling over.
The weather was excellent for the hike and the trail was very enjoyable as there were many laughs and stories shared along the way. Some of the participants even took part in water fortune telling. The evening came to an end after attending the setsubun festival at Yoshida shrine and enjoying many yummy street foods like Indian chicken roti, amazake, fried mochi, croissant custard taiyaki, and hashimaki! What a great way to call in the spring season!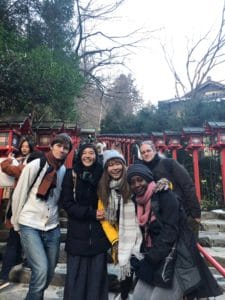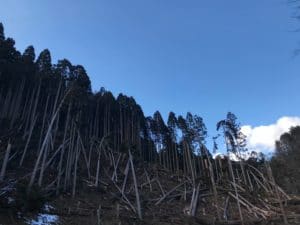 We hope you enjoy the cold season and look forward to seeing you at one of our future events!
Written by Ni Ni Min Thu (MSA Kansai Team).