On the 1st of Feb 2020, the MSA Tohoku Chapter organized an exciting event called "Talk to Ignite". The aim of this event was to encourage both MEXT and non-MEXT students to share their ideas, passion or work that can create a positive impact on society, something that can help solve the current and future problems faced by humanity or inspire the young generation.
The ignite talks were 10-15 minutes long and the speakers shared interesting stories or facts to put emphasis on their points.
On the event day, we had 7 speakers- 6 MEXT scholars and 1 start-up founder. A total of 18 people attended the event.
We started the event in the afternoon with Emmanuel giving a great talk titled "How useless is Maths?" explaining how maths affects our everyday lives, how it can be applied to other disciplines like biology and medicine, he busted a lot of Maths myths and how to overcome Maths-induced anxiety and trauma issues.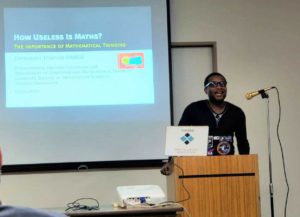 Our next speaker was Sioud Imane "Mimi", who shared her story about her journey as a nature lover, coming from Algeria to Japan, and how the excessive use of plastic in this country affected her. She highlighted the initiatives she took to minimize plastic use in her daily life and spread awareness around her to lead an eco-friendly lifestyle. She shared her ideas about how we can organize minimal waste events in Sendai.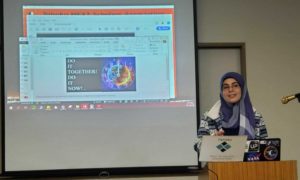 The next speaker was Trishit Banerjee, who shared the importance of bridging Tohoku University students with the local community through various social initiatives. He highlighted the positive impacts of international students interacting with the local community. Speaking from his own experiences as a volunteer for many social activities, including helping the people affected by the Great 2011 Japan Earthquake getting back to their normal lives, he explained how he learned about the hidden gems and the culture of Tohoku. He also outlined useful information about how international students can engage in volunteering and paid activities to contribute towards society.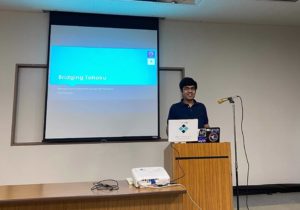 Aman Sharma, 2nd Year Masters student in Environmental Studies presented about his research on Hydrogen fuel cells. He emphasized how this clean energy source will soon revolutionize the energy industry and automobile sector especially in Japan. He also outlined the challenges ahead in this field and possibilities to overcome those, and how hydrogen will play a significant role in connecting various sectors of the economy.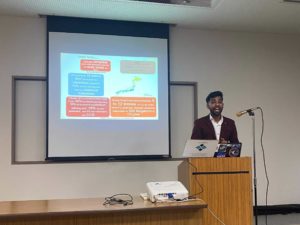 Adeoya Akindele from Miyagi University talked about how to reconcile academic life with sports in order to lead a healthy life. He identified the increasing decline in sports participation due to academic pressure, and the physical, psychological and social side-effects of a sedentary lifestyle. The talk led to a productive discussion of how international students are unable to engage in sports clubs and circles at Tohoku University as leisure activities due to unreal expectations of qualifying in regional and national challenges.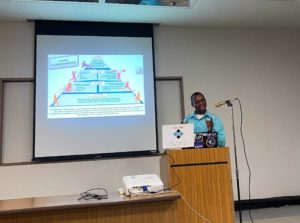 Aerospace Engineering student Shreya Santra talked about how space research and applications benefit life on Earth as well as how satellites in the Earth's orbits help us monitor climate change and natural disasters. Satellite images show us the bigger picture and the global impacts of human activities on Earth. The talk was followed by a lot of space-related discussions such as the problem of space debris, future space exploration missions and the establishment of the US Space Force.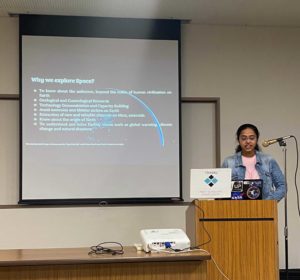 Our last speakers were start-up founders Lena Fritzsche and Senghane Sene, who have set up the company 土帰doki which aims at designing sustainable products for daily life that are deeply connected to nature. These products are aimed to be cradle-to-cradle, i.e., obtained from nature and returned to nature, which eventually foster the well-being of both humans and the environment, as no harmful wastes are produced at the end-of-life of the product. They had brought some samples like coffee cups, bottles, bento boxes, etc that were made from natural materials such as bamboo, which is completely biodegradable. It was very interesting to know about the products that they have planned to bring to the market later this year.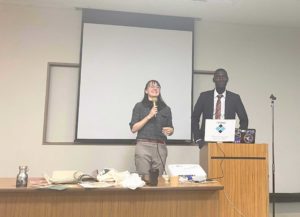 This event was truly an eye-opener as we all learned some new and unique facts that we were not aware of previously. It also leads us to look into ourselves and think of how we can make our lives more sustainable, environment-friendly and also about ways to give back to the society we live in. We plan to organize such kinds of events at least once a year and would be happy to have speakers sharing their stories from different walks of life.
Written by Shreya Santra, Head of the MSA Tohoku Team.