On the 31st Oct 2021, MSA held out first Cross-Border Webinar. Around a 100 people across multiple continents in the world joined us in exploring how COVID-19 changed the business presence of Japan.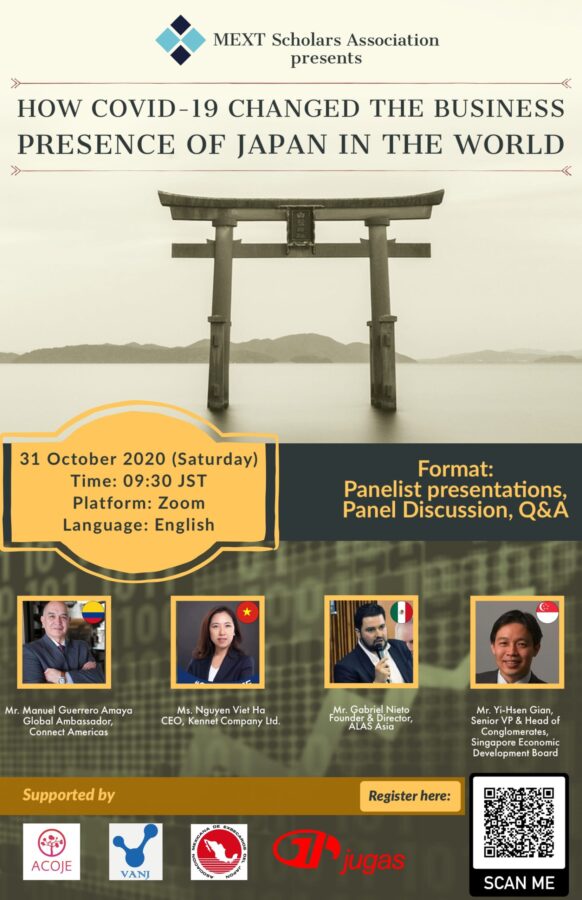 We were joined by the following illustrious speakers, representing the following Japan-related alumni and professional associations.
1. Alumni organization: ACOJE – Colombian Association of Former Scholars from Japan
Mr. MANUEL GUERRERO – Global Ambassador of Connect Americas
2. Alumni organization: AMEJ – Asociación Mexicana de Exbecarios del Japón, A.C.
Mr. GABRIEL NIETO ENRIGUE – Founder and Director of ALAS Asia
3. Alumni organization: VANJ – Vietnamese Academic Network in Japan
Ms. NGUYEN VIET HA – CEO of Kennet Company Ltd.
4. Alumni organization: JUGAS – The Japanese University Graduates Association of Singapore:
Mr. YI-HSEN GIAN – Senior Vice President and Head of Conglomerates at Singapore Economic Development Board (EDB)
MSA is glad to have the opportunity to host 2 hours discussing how the COVID-19 pandemic has affected Japan's business presence in the respective countries. We explored topics such as:
The history of the relations between Japan and the respective countries representated.
How Japan's investment patterns may shift due to the COVID-19 pandemic.
Digital transformation and what still stands in the way of increased trade.
The success of this first event has proved to us that there is a demand for MEXT and Japan alumni overseas to connect with each other, exploring topics which are relevant to all of us.
Part of MSA's goals is be a platform that connects MEXT students and alumni throughout the world. We plan to continue these kinds of events, bringing in the participation of more of our alumni association partners throughout the world as ways to not just exchange ideas, but also to build links with the MEXT graduate communities throughout the world.