On 4th August 2018, 12 MSA members from the Kobe, Kyoto and Osaka region (students from Kobe, Kyoto, and Osaka University) witnessed the annual Kobe Port Fireworks Festival, which began at 7pm. The Kobe co-oroganizers arrived at around 2pm to secure a nice and comfortable spot to enable smooth team bonding and perfect sky viewing. The atmosphere was fantastic as most of the Japanese were dressed in their local traditional attires, which gave a wonderful brand and flavour to the ritual fireworks festival. Foreigners; working adults, students, as well as tourists were not left behind. Several small shops were lined up, where local foods and drinks, including 'Sake' could be bought to enable visitors to feel at home.
Some of the lined-up activities before the commencement of the sky viewing include: an informal introduction; talk about life in Japan; jokes; and also discussions about how to strengthen the MSA Kansai Team in Kobe.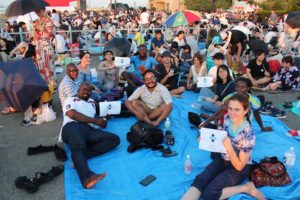 The climax of the event was reached at exactly 7:45pm as the sky was filled with an amazing brightness of different colours. A lot of visitors, including the locals were seen taken pictures and videos. There were a lot of kids having fun with their parents and not wanting the fireworks to end. However, just like the saying "every beginning must surely have an end", the fireworks finally came to an end with large traffic and congestion of movement as the MSA members had to walk to either "Minatojima Campus Mae" or "Kita Futo" stations' to catch their trains back home. It was indeed a memorable day for everyone, but especially to those of us who witnessed the event for the first time.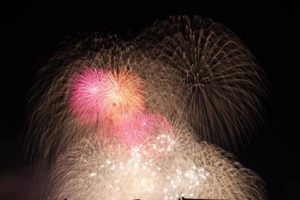 Our appreciation goes to the central committee for their financial support and to the other committed members who came along with foods and drinks to add spices to our discussions.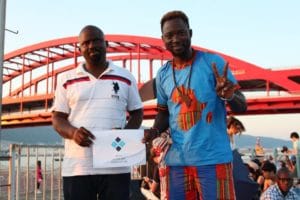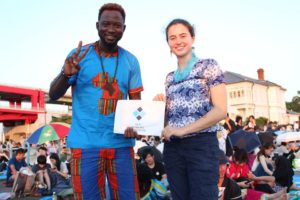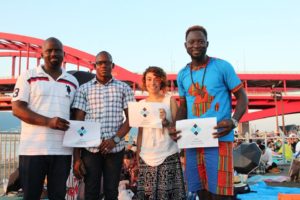 Above all, we really appreciate you all for your participation and do encourage everyone to join us in making the MSA Kansai Team a family affair. See you again in our future activities! One Love, Unity, and Progress!!!
(Report compiled by Mr. HARUNA Emmanuel, MSA, Kobe University. Pictures were taken by Mr. Kabya Kaushik.)