On Friday July 5th2019, the Kansai team hosted a baseball outing for our international student community. For a majority of the group, it was their first time to attend a professional baseball game and of course their first time sitting amongst the passionate Hanshin tigers fans in the cheering section in the outfield.
Before the game, we went to the Koshien History Museum and learned a lot about the famous Koshien Stadium where many events such as the famous Japanese highschool baseball tournament occur as well as college American football tournaments. To our surprise, Kyoto University used to be a long-time champion back in the early 90s.
We were also lucky enough to receive free Tigers jerseys for attending the museum and game! It was an exclusive campaign for foreigners (first 5000 foreigners to attend the game and museum get a free jersey!) Before entering the stadium we befriended a die-hard fan who we saw praying before the game and he gave us all the lyrics we needed to know to cheer on each Tiger on bat. We were so grateful!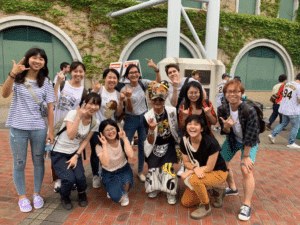 At the museum we also befriended a group of Hiroshima fans and wished them good luck and an exciting game.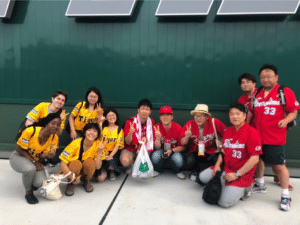 With great weather and a wonderful atmosphere, we cheered the Tigers to victory 3-1! There were so many epic moments, but I'm sure the lucky 7thinning sure brought everyone to new levels of surprise and excitement! Everyone in the stadium, except the Carps cheering section (they sing their anthem in the 6thinning) blew up their balloons and released them into the air whilst singing the Tigers song.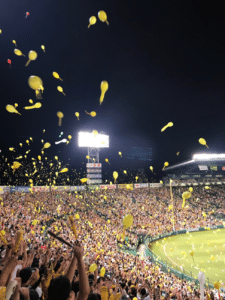 We stayed until the very end of the game and of course like any good fan cheered on the MVPs of the game and cheered during their interviews. The crowd was as lively at the end of the game singing their hearts out long after the game was over. We all went home with our hearts full of Tigers passion and power! What a wonderful day to end their short losing streak! If any other MSA teams out there want to host us in their regions at a baseball game- we Kansai folks are ready!! Thank you so much for joining us! We hope more international students and Japanese students will join us for future events! Special thanks to volunteer hosts Attila Varga and Chika Kondo for putting in time to plan and organize!
Written by Chika Kondo