On the occasion of Japan's Culture Day holiday on Monday, November 4th, Tohoku MSA organized an Autumn trip to Yamadera (山寺) in the neighboring prefecture of Yamagata.
It was the 2nd such trip organized by MSA Tohoku this year and was open to both MEXT and non-MEXT students. The weather was sunny and warm, just perfect to view the autumn colors which were predicted to reach their peak during the weekend. At 9:30 am, a group of 20 people gathered at the usual spot in front of the stained glass at Sendai station to join us for a 50 minute JR train ride to Yamadera Station.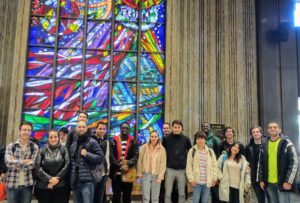 MSA Tohoku ready for the Autumn trip
Yamadera's sub-temples dot the slopes of Mt. Hoshu in the northeast of Yamagata city. A 1,000-steps ascent through a mystical forest brings you to the mountain top Risshakuji Temple, which is famous for having one of the best views in Northern Japan. We were lucky to have with a MEXT PhD scholar studying Japanese culture with us. She explained to us that Risshakuji was founded in 860 AD as a temple of the Tendai sect and that the renowned haiku poet Basho composed one of his most famous poems here.
Soon after we arrived at the station, we got the admission tickets and started to hike up from the base. The hiking trail was easy-to-moderately difficult with eye-catching shrines, enchanting stone lanterns, wooden wheels, and limestone caves along the way through the beautiful cedar forest. The 1000-steps climb to the top took us about 30 minutes where we were rewarded with a breathtaking view overlooking the Tachiya River Valley. There were multiple observation decks at different levels that offered wonderful views of the valley.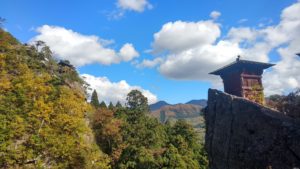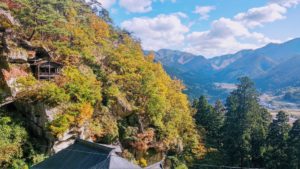 The breathtaking views from the mountain top
We spent a lot of time clicking pictures and just enjoying the beauty of the Fall foliage. Suddenly the clouds came in and it became very windy, so we hurriedly started our descent back to the base.
After the adventurous, beautiful, and tiring hike we turned to the many eateries and shops near the Yamadera station. We separated into two groups based on our food mood: the ramen and soba groups.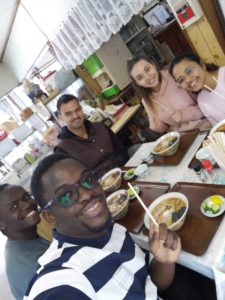 The ramen group enjoying the delicious Yamagata ramen
After enjoying a warm and hearty lunch, we strolled around the town for a while and visited different souvenir shops that sold traditional Japanese artifacts. Also, some of us purchased omiyage (souvenirs) for ourselves and our friends.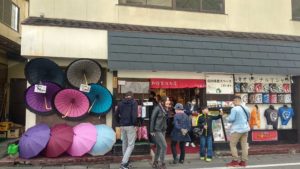 Souvenir shops in Yamadera
Soon after that, we took the train and returned to Sendai at around 16:30 bidding goodbye to each other for the day.
We welcome MEXT scholars to join the Tohoku MSA Team and help us organize more such trips. We wish you all a successful semester and look forward to seeing you at one of our future events!
Written by Shreya Santra, Head of the MSA Tohoku MSA Team.