On Saturday, April 13th, our Tohoku Team organized their first event after a gap of more than a year. It was a Hanami event to welcome the new students and reconnect with the old ones. 20 MEXT scholars (accompanied by their family and friends) from different countries joined the Hanami in the iconic town of Ogawara to view the 1000 cherry blossoms trees lined up along the Shiroishi river. The place is also known as Hitomesenbunzakura. Participation was free of charge, but transportation was to be paid by oneself. We took a 40 minutes JR train ride from Sendai to Ogawara. The weather was perfect, the Sakura blossoms were fully blooming and the place was brimming with happy people enjoying the much awaited Spring season. We found a spot near the food stalls under the white-pinkish trees close to the performance podium. We started off by introducing ourselves, how we came to Tohoku University and what we are looking forward to through this association. We then shared our home-made or locally bought lunches with each other over relaxing conversations. Non-alcoholic drinks and snacks were provided by the committee.
We then set off to walk around the huge Ogawara-Funaoka park and enjoy the beautiful views from the numerous viewpoints.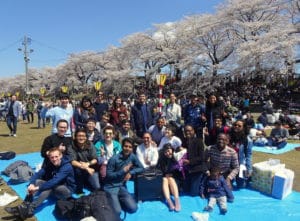 We all came back at our spot in late afternoon and souvenirs were given out to all the MEXT scholars who attended the event. The souvenirs consisted of a nice English-style cup and saucer specially packed in Sakura covers. Everyone was glad and surprised with the sweet gesture!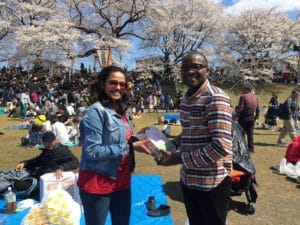 As the sun set, the streets were lightened up by pretty lights that created a soothing ambience.
Soon after that, we took the train back to Sendai and bid goodbye to each other for the day.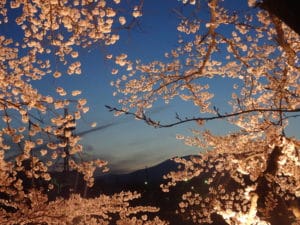 We welcome more MEXT scholars to join the Tohoku Regional Committee, actively participate in the events, express their ideas and interests and build a strong network that will benefit us now and later!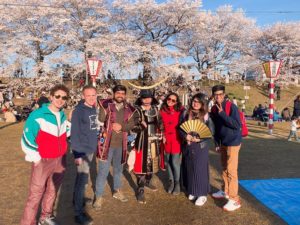 We wish you all a successful semester and look forward to seeing you at one of our future events!
Written by Shreya Santra (Head of our Tohoku Team).