On the first official day of Golden Week 2019 — April 29th, MSA Kansai and Google Local Guides collaborated to organize a photo walk and hike at Takaoyama, along the Kiyotaki River in Arashiyama, Kyoto. And we couldn't have chosen a better place.
The minute we get off the train at Hozukyo station, we were immersed in stunning greenery, and absolutely gorgeous landscapes. Our group of 13, 5 of whom were MEXT scholars, leisurely strolled along the water, crossed a few beautiful bridges, and then found a wonderful spot alongside the river to eat lunch and get to know each other better.
In fact, our group of 13 came from countries such as the Philippines, the United States, France, Spain, Peru, Gambia, Mexico, Colombia, and Taiwan. With such a diverse group, there were so many interesting things to talk about such as the best places to visit in South America, bitcoin, President Donald Trump, health and nutrition, upcoming travels, and more. And many members of the group could speak fluent Spanish, so there were a few conversations in Spanish, which was nice to hear.
After our lunch break, we continued on towards Takaoyama, and took a short detour to see a beautiful waterfall. During our entire hike, we took many rest stops to take photos, admire the view, and just take in the gorgeous scenery. Compared to Arashiyama, it's not crowded, so it was also a nice reprieve from the busyness of city life. All in all, it was a relaxing stroll in a secluded and expansive area, with mind-blowing greenery — the perfect environment for hearty conversations with new friends from all over the world.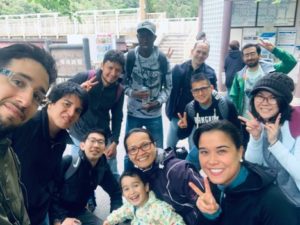 Thank you so much to everyone who was able to attend the event!
Written by Julie Taeko Gramlich.