Amidst the grim of the previous night's typhoon Hagibis and the relief of it passing by stood a group of smiling and excited faces from the MEXT Scholars' Association Tohoku, holding a placard of MSA in front of Daiso at Aobadori-Ichibancho, Sendai waiting for other MEXT scholars from the region to gather for their event 'Connect Over Coffee'. The event was organised on the 13th of October from 5 PM by MSA Tohoku with the aim of connecting the MEXT Scholars in the region and, also, the newcomers with the senpais. The event was attended by 21 MEXT scholars ranging from various nationalities, fields of study, and degrees including Undergraduate, Masters, and PhD.
After gathering all the MEXT Scholars we went into a nearby cafe, Caffé Veloce, placed our orders, and settled down. We started by introducing ourselves to each other while waiting for our orders to arrive. Following that, a small presentation outlining the details of MSA and the activities of the Tohoku Chapter was given by the leader, Shreya Santra. All the attendees were asked to sign-up on the MSA Junction platform and subscribe to the MSA newsletter.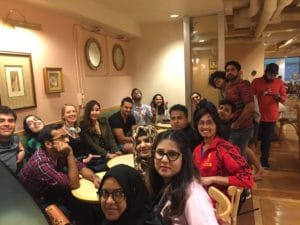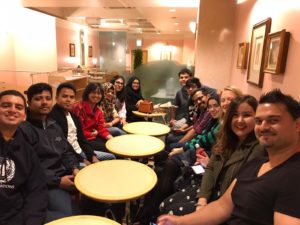 The scholars discussed about their life in Sendai, how the first few weeks have been for the newcomers in Japan, etc. After this, the discussion shifted to the possibility of increment in the amount of MEXT scholarship. Everyone brought up many important and enlightening points into this discussion; the economic crisis of Japan, lowering of number of students accepted if the scholarship is to be increased, sense of gratitude of already being blessed with a boon in contrast to other students in universities both in Japan and other countries, the scholarship not being sufficient for undergraduate students because they have to pay for many expenses to attend conferences and events, the hike in tax, accommodation facilities being expensive in Japan, consulting the alumni to better understand the problem, etc. After the discussion we came to a conclusion that we should first understand the problem better and ask other chapters to discuss the matter in their own events and then collectively come up with a way, if necessary, to approach the Ministry of Education, Culture, Sports, Science and Technology for increment in scholarship.
The event was officially closed at around 7 PM thanking everyone who joined the event and taking a group picture. Overall, it was a wonderful event through which many MEXT Scholars could connect and get to know about each other, their field of study/research, and experience(s) in Japan and at the university.
We are looking forward to organising and enjoying more of such events.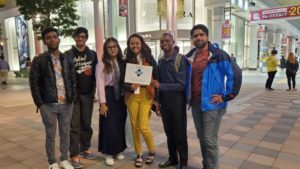 Tohoku MSA Team
Written by Krishna Soni, Tohoku MSA Social Media Coordinator.