This October MSA held welcome meet ups for new scholars in Hokkaido, Kanto, Tohoku, Kansai and Kyushu. We hope that everyone enjoyed the meet ups and made new friends and we would like to thank everyone who participated and contributed in making every single one a success!
To give you an impression of the events, here are some pictures and brief reports:
Hokkaido
The welcome event for the MEXT scholars starting in fall seminar was held amidst the golden leaves of gingko trees in Hokkaido university. It was a bright Autumn day when the present and ex-mext scholars gathered and had a meet up with around 15 newcomers. We had a talk from the ex-mext scholars who are now working in an artificial intelligence company AWL in Hokkaido, followed by general presentations about student life in Japan from our regional group members. It was a cold day since it's Hokkaido Autumn but when you are surrounded by good hearted people and delicious BBQ smoke things soon got much warmer. (Sajjad Kamal)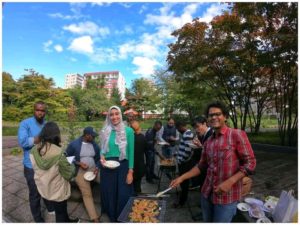 Tohoku
Amidst the grim of the previous night's typhoon Hagibis and the relief of it passing by stood a group of smiling and excited faces from the MEXT Scholars' Association Tohoku, holding a placard of MSA in front of Daiso at Aobadori-Ichibancho, Sendai waiting for other MEXT scholars from the region to gather for their event 'Connect Over Coffee'. The event was organised on the 13th of October from 5 PM by MSA Tohoku with the aim of connecting the MEXT Scholars in the region and, also, the newcomers with the senpais. The event was attended by 21 MEXT scholars ranging from various nationalities, fields of study, and degrees including Undergraduate, Masters, and PhD.
The event was officially closed at around 7 PM thanking everyone who joined the event and taking a group picture. Overall, it was a wonderful event through which many MEXT Scholars could connect and get to know about each other, their field of study/research, and experience(s) in Japan and at the university. (Krishna Soni)
Click here to find a more detailed report about the Tohoku Meet Up.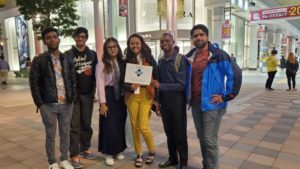 Kanto
For the 2019 Autumn Welcome Meetup, the MSA Kanto team chose a spacious okonomiyaki restaurant with an arty twist at Harajuku. A record-high total number of 33 fellow MEXT scholars and alumni gathered for some pure DIY fun japanese cuisine, with a reduced price, all-you-can-eat plan, provided by MSA. New friendships, invigorating conversations and fresh faces were equally enjoyable as the delicious food and drinks that kept coming throughout this Saturday afternoon! We are looking forward to providing a new, authentic experience every time for our newcomer fellow scholars! (Harry Krekoukiotis)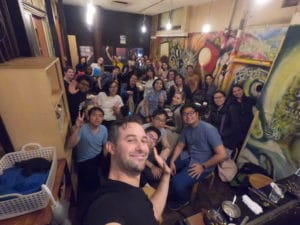 Kansai
October 5th 2019. The skies were clear and filled with sunshine. Actually it was a little too much sun, so we moved to find more shade. It was our third time hosting a welcome meet out on Kamo-river and we were all ecstatic to see both familiar and new faces for our bi-annual welcome meet. During our introductions, we got to learn more about each other's hobbies, current obsessions, and interesting facts about one another home countries! It's always exciting to learn something new.
We are hoping to have more social events such as these where people can casually meet new people and have friendly conversation. Until next time! (Chika Kondo)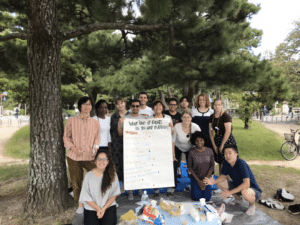 Kyushu
The Kyushu team welcomed new scholars with a pizza dinner at Shakey's Pizza Parlor in Canal City in Fukuoka. It was a great opportunity for recent arrivals to meet their experienced counterparts!
Thank you to all of those who organized and those who attended our welcome meet ups this semester! We hope to see you at our next event!